About

Grounds Group

LICENSED & INSURED WORKING DIRECTLY WITH YOIUR INSURANCE 

Grounds Group, LLC is a privately held company and is fully licensed and insured.  At Grounds Group, LLC, we take as much time and effort as required to attend to your questions and needs when it comes to your property.

Our Fire & Water Restoration division is at your service to assure the smoothest, fastest track back to normal after a disaster. Every loss is reviewed and analyzed by highly trained specialists to ensure your job is done right, in accordance with industry standards. Fire & Water Restoration is a family-owned business, dedicated to helping you through a tough time. We have the efficiency of a corporate disaster cleaning team, but the caring compassion and 1-on-1 customer service of a small, local business. We serve the entire Chicagoland metro area with all of its difficult cleaning, decontamination, and sanitation needs. If you find yourself in need a professional, friendly, and compassionate Chicagoland flood water damage cleanup team or Chicagoland crime scene and trauma cleanup experts, Fire & Water Restoration is here for you 24 hours a day, 7 days a week and 365 days a year.

If a claim is deemed necessary, we will be happy to begin loss prevention immediately and submit all needed documentation and pictures for your insurance company.

Using the latest technology in disaster recovery, Fire & Water Restoration provides complete loss management and restoration services to residential and commercial properties in the Chicagoland area.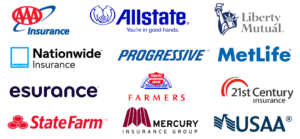 COMMERCIAL DAMAGE RESTORATION SERVICES
Fire & Water Restoration provides the best commercial restoration services in Illinois by offering professional emergency services for emergency situations. Water, fire or mold damage can happen without any warning, that's why we have our IICRC-certified technicians who are ready to get to work on your commercial water, fire or mold restoration as soon as possible. We use only the most advanced technologies and tools in the emergency commercial water restoration business, including infrared cameras and moisture mapping, to make sure we locate water in and under structural surfaces in your building. Fire & Water Restoration is here for you to reduce structural damage on your commercial property that can take place from unexpected flash floods, storms and fires.
 Commercial Services

 Commercial Restoration

 Commercial Fire Restoration

 Commercial Water Restoration

 Commercial Mold Restoration

 Commercial Storm Restoration

 Commercial Cleaning

 Commercial Carpet Cleaning
24/7

Emergency Service

ON CALL 24 HOURS A DAY, 7 DAYS A WEEK

Water damage claims increase if prompt action isn't taken to contain the damages. We have state of the art extraction and drying equipment, certified water restoration personnel and training to handle all types of water damage. Grounds Group's "Fire & Water Restoration" division is experienced working with your insurance company to minimize the professional burden for the insurance adjusters, along with the personal and emotional trauma for the homeowner who has suffered the damages.

WATER DAMAGE RESTORATION

Water damage is a very serious situation that has the potential to wreak havoc in a few hours if unnoticed. Grounds Group's "Fire & Water Restoration" division is Illinois first choice for handling all aspects of water damage emergency, including frozen and broken pipes, toilet over-flows, sewage back-ups, water line breaks and more. Without a complete dry-out, the chances of mold developing become much higher after 24 hours.
 Emergency Water extraction

 Removal of Containment of Odor from Mold/Mildew

 Drying and dehumidification

 Carpet Cleaning and Restoration

 Upholstery Deodorization and Stain Removal

 Mold and Mildew Containment
FIRE DAMAGE RESTORATION
Fire & Water Restoration is the leader in fire restoration services in Illinois. Fire & Water Restoration works directly with your insurance to clear up the fire damage and restore everything back to it's original state. Fire and smoke damage requires more service and expertise than an ordinary contractor or house cleaner can provide to restore a property back to livable condition. Fire & Water Restoration can remove smoke and soot from upholstered furnishings, carpets, draperies, and building interiors. Our team will deodorize, refinish and restore hard furnishings; such as desks, tables and credenzas. We are able to restore your home or business back to it's original condition even though you have had what seems like permanent damage. Fire & Water Restoration also provides full service construction to get your home back to it's condition, or even better!
 Smoke & Odor Removal

 State of the Art Cleaning Equipment

 Corrosion Control

 Ozone Treatment

 Electronics Cleaning

 Contents Restoration and Refinishing
MOLD REMEDIATION 
Mold contamination is a serious health hazard and can trigger an allergic reaction and asthma in certain individuals. No one offers better mold damage services than Fire & Water Restoration. Our technicians are experienced in mold testing, mold removal, air duct cleaning, fire damage Restoration, water damage restoration and all other aspects of mold remediation.
Fire & Water Restoration is a certified mold remediation company. Our technicians are highly trained to provide mold removal and remediation in your home or business. We are licensed for mold remediation, and also carry the correct liability insurance. If you suspect mold in your home or business give us a call. We will do the job right the first time, in a timely manner and on budget.
 Initial Air Quality Testing

 Mold Identification

 Disposal - Mold Cleanup Services

 Decontamination

 Final Clearance Testing

 Reconstruction
Latest

News More News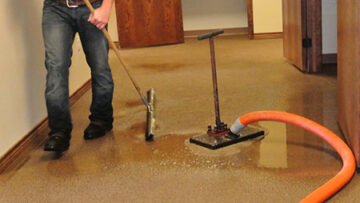 Grounds Group Flood and Water Restoration division can help with all your restoration needs. Water damage is a very...
Read Post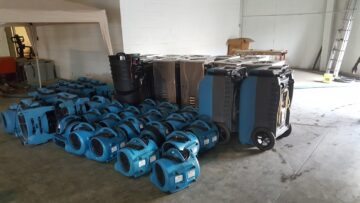 Fire & Water Restoration is Grounds Group's disaster division. If you are in need of plumbing, mold remediation,...
Read Post
Client

Testimonials
During this difficult and unexpected time, we were extremely impressed by the professionalism, promptness, value, and quality restoration they did! The crew was very friendly and considerate of our needs and far surpassed every expectation we had. Although I hope to never have to need them again, I would certainly recommend their services and use them again.
These guys are great! Called them at 1:30 am in the morning once we heard water rushing into our basement and a crew was there within 25 minutes. My basement would have been completely flooded if it wasn't for Fire & Water Restoration!
Certifications
With so many years of experience in the business, our company is your source for the highest quality restoration service.