Grounds

Group
The Performance Leader in Exterior Property Maintenance!
Grounds Group, LLC is a privately held company and is fully licensed and insured. With locations in Palatine, Spring Grove, Wheeling and Bartlett, Illinois we services Lake, McHenry, DuPage, Kane, Will, and Northwest Cook County. Grounds Group offers exterior facility services to commercial, industrial, municipal and governmental customers. Our exterior services consist of landscape maintenance, landscape installation, snow removal, day porter services, tree removal, paving, water restoration and site improvements.
Grounds Group started with a handful of employees and a dream of growth and prosperity. Over the years we have grown into a multi-million dollar company employing over hundreds. Our client base keeps growing, and last year our Maintenance Division serviced 193 accounts ranging in size from small strip malls to large condominium complexes. We also service municipalities and several school districts.
Our goal as a company is to provide our customers with individual attention, quality service and competitive pricing. Many of our clients have been with us for 10 or more years, which is an honor to us as a company and a tribute to our hard work and dedication.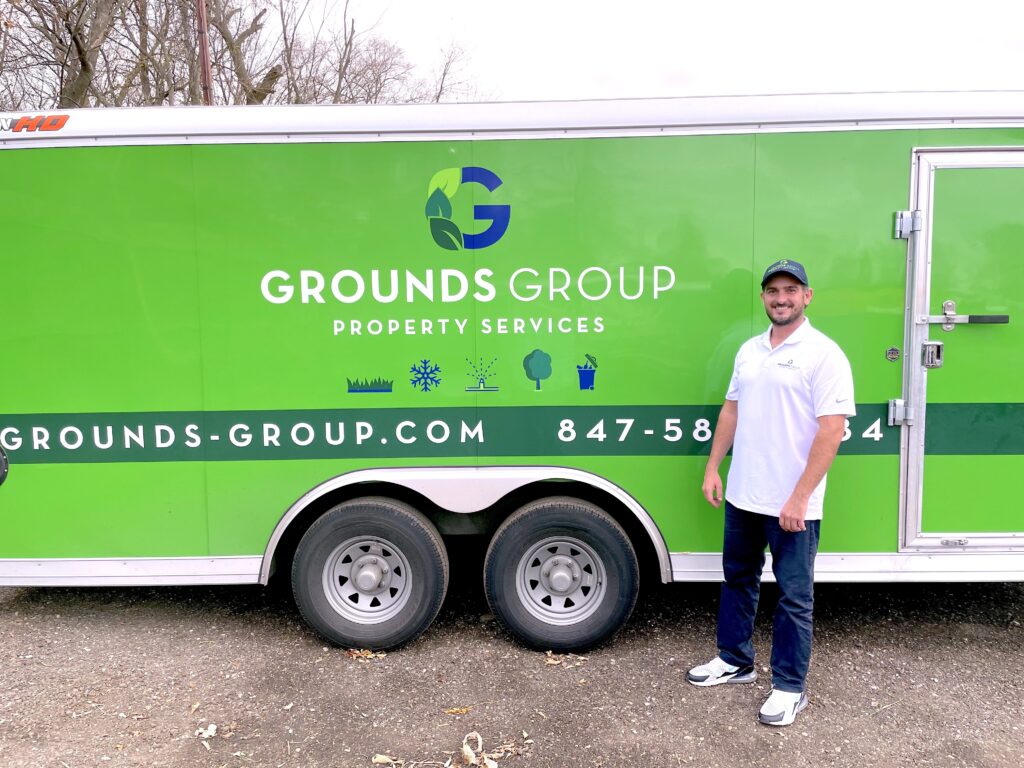 What is Exterior Services Management?
Grounds Group, LLC is the management of your commercial facility's maintenance needs, which includes repairs and maintenance to the exterior of your commercial buildings and grounds. Partnering with one company to manage ALL of your exterior maintenance needs will help streamline your processes, improve quality control and, in most cases, reduce your overall facilities maintenance spending. Hiring multiple contractors for each service, such as one company for landscaping, another for day porter services, a third company for snow removal, and so on, requires unnecessary resources which can drive up your costs and drive down quality. At Grounds Group WE DO IT ALL, and we do it well! We are your one-stop shop for all your exterior maintenance needs.
Why Grounds Group, LLC?
Grounds Group is unlike any other Exterior Services Management company in the marketplace today. Many traditional companies fall short of their objectives because they lack the focus and discipline necessary to be successful. At Grounds Group, we aspire to be a leader and innovator with a heavy focus on our company's core business. With years of experience, we are dedicated to offering a full service approach that goes beyond the expectations of the customers we serve. Our focus is to continually improve that comprehensive service by delivering exceptional value, solutions and professionalism while instilling good ethical standards among our employees and service partners.
What Makes Grounds Group a Leading Exterior Services Management Company?
25+ years of industry knowledge and experience.
Fully insured, including general liability, auto coverage and workers compensation.
Provides exceptional service at competitive rates with the goal of reducing customer budgets whenever possible.
Partners with the "Best of the Best" service providers in the industry and pays them on time.
Invests heavily in quality control, including an in-house team of experts performing regular site inspections (real "boots on the ground").
Doesn't operate scripted call centers; offers dedicated account teams with a hands-on approach available via cell phone 24/7.
Over four decades ago we started a company with two men. Shortly after, a landscape designer joined the team. From that point we began to grow fast!
For two decades, we grew very quickly. 1997 was the year we opened a second location. We saw rapid growth and continued expanding our services.
Currently, we have been nominated several times, and won 12 awards for landscape design. We are very proud of this achievement!
Landscaping

Awards

With so many years of experience in the business, our company is your
source for the highest quality and landscaping service.